A basement remodel requires countless dedication and finances to achieve the results desired. Many basements remain incomplete due to this realization. Even if the remodel is successful, it requires continuous maintenance due to unexpected circumstances surrounding pipes, insulation, walls, flooring, and ceiling.
Regardless, all successful basement remodels contain these tips.
It Must Match Home Decor
Unlike the stereotype of a cold, dark, unattractive place with creaky stairs and cobwebs, today's basements are functional and flexible. Take today's basements a step further and connect the theme and decor of the home to the basement.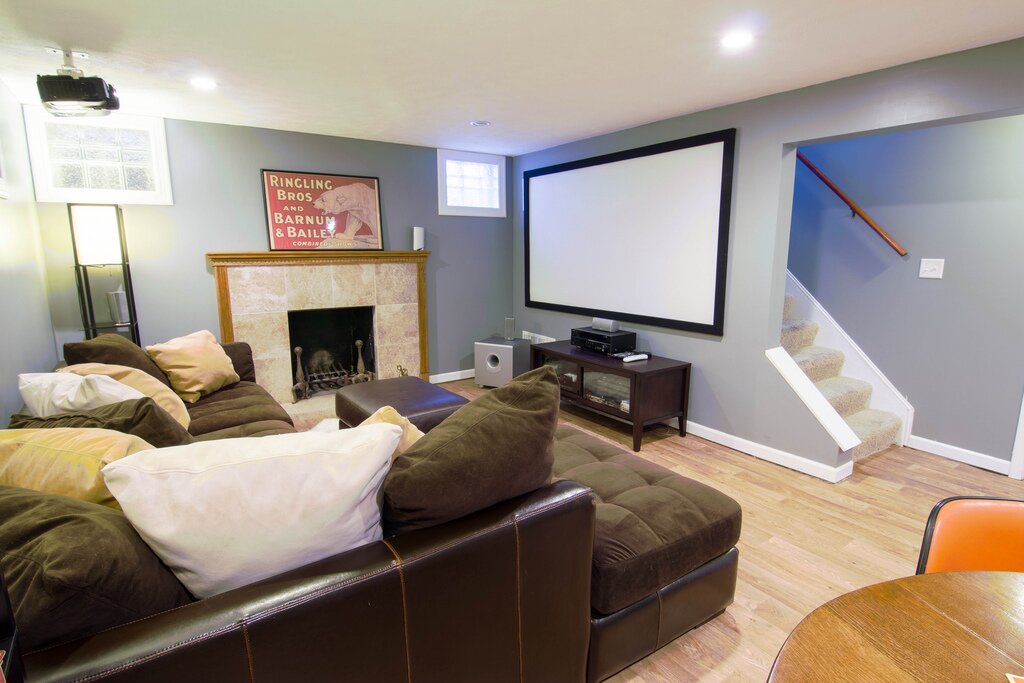 The colors, the patterns, and the design style used in the home should venture into the basement finishing process. The completed project will blend and flow with the home. If the homeowner or buyer doesn't know where the home ends and where the basement begins, you've done a good job.
It Must Contain a Finished Structure
The walls cannot show electrical outlets or plumbing pipes, so repair, insulate, and cover these walls. Choose between paneling, plywood, and drywall. The ceilings cannot show dangling wires or unattractive ductwork, so cover the ceiling using the drop or suspended method.
Doors and windows in basements must function as an exit strategy. Nevertheless, windows require a window well, a retaining wall, and steps for a smooth exit.
It Must Contain Storage
Unfinished basements are one large storage area. Today's basements are rooms containing storage space. Like rooms around the home, shelving and portable storage provide adequate storage while relying less on other rooms to store items. Built-in storage is acceptable as well.
It Must Have Durable Stairs
The creaky stairs mentioned earlier is a stereotype that doesn't have to continue. Turn the stairs of yesteryear into the stairs viewed in magazines, traditional homes, and luxury homes. Invest some money into creating durable and beautiful stairs with railings that turn heads.
If necessary, move stairs to a convenient spot. Additionally, stairs must be compatible with the home. See "It Must Match Home Decor."
It Must Have Quality Flooring
The basement is the coldest room in the winter (heat rises) and the coolest in the summer. Due to this, basements require flooring that won't freeze your feet to the touch. Therefore, carpets are the best flooring for basements.

Nonetheless, tread carefully. Very inexpensive carpets won't last long-term. Invest in quality, yet inexpensive carpet that withstands house traffic. Vinyl, tile, and laminate are good options as well. Wood flooring is not acceptable for basements due to possible warping and gaps.
It Must Suit a Homeowner's Purpose
A basement can fulfill many dreams for a homeowner, so decide which room the basement will become. Likewise, the room should fit your needs, your future needs, and future homeowners' needs as well. A game room, craft room, or home office won't suit everyone's needs. A bedroom, kitchen, bathroom, or laundry room will.
The basement is a wonderful addition to homes. A finished basement is in the top five return-on-investments, so expect some profit. In turn, invest a reasonable amount of finances in the basement; ensure the appearance attracts buyers.
That line is difficult to juggle. Finished basements also increase home equity and value. In closing, these tips previously mentioned ensure it is successful for today, tomorrow, and the many days afterward.